The Snæfellsnes Peninsula
This trip is perfect for a hit of genuine Icelandic culture while also basking in the glory of
the natural geographical wonders and yawning expanse of untouched Icelandic nature.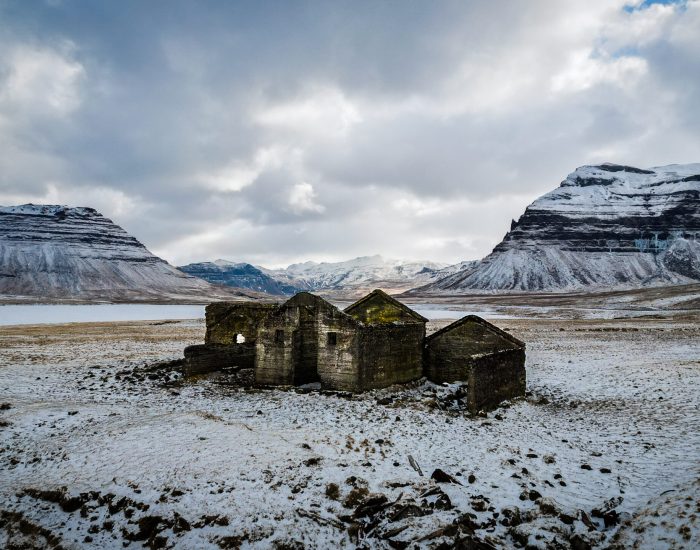 Búðir (Hamlet)​
This church was first built in 1703 but the current building dates to 1848. It is still in use but also a wonderful sight to see,
from both the outside and inside. The strikingly black wooden church stands alone in a beautiful landscape.
Arnarstapi​
This once lively fishing village, popular with settlers due to the easy fishing, has now become a popular stop while driving around Snæfellsnes.
The beach here is a sight to see, with its unusual rocky formations and arctic terns flying about.
Lóndrangar​
These magnificent cliffs, sometimes named The Rocky Castle, surround the beach at Arnarstapi.
The surrounding fields have long been rumored to be the homes of elves and so, there was never any farming done on these precious grounds.
Djúpalónssandur
Similar to Arnarstapi, this beach was once a prosperous fishing village. There, you can test your strength like the fishermen once did,
by lifting four heavy stones, increasing in weight. Try to find the supposed elfish church and stones some say were trolls that stayed out after sunrise.
Kirkjufell​
This distinctly shaped peak is often referenced as the most photographed mountain in Iceland so get our your cameras.
This mountain, directly translated to Church mountain, takes its name from its resemblance to a church steeple.
Find your own comparison as you take in this magnificent 463 meter (1519 feet) mountain.
Close by, you can also catch a glimpse of the waterfall, small in size but not lacking in beauty.
The mysterious Berserkjahraun
This 4000 year old lava field gets its name from one of the Icelandic Sagas, since two berserkers were supposedly brought here from Sweden.
Four different volcanoes erupted to make this field, which is also covered in craters.